Cruise Itinerary Details

7 Night Bermuda
Norwegian Escape
Departing from:
New York, New York
Entertainment

Bars, Clubs & Lounges

Casino & Gambling

Spa

Sports & Fitness

Shops

Leisure

Enrichment

Family Friendly Features

Just for Kids

Group Sitting for Kids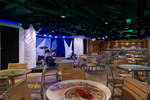 Lounges & Bars
Intimate Lounge
The 5 O'Clock Somewhere Bar
Sugarcane Mojito Bar
Prime Meridian
Tobacco Road
Wine Bar
The Cellars - A Michael Mondavi Family Wine Bar
Irish Pub
O'Sheehan's Neighborhood Bar & Grill
Scenic Views
Vibe Beach Club
Sundeck Bar
Garden Cafe Bar (indoor and outdoor seating)
Exclusive Lounge
The Haven Lounge (Exclusive to Guests of The Haven)
Studio Lounge (Exclusive to guests of the Studio staterooms)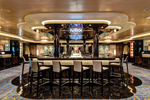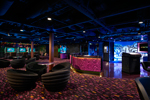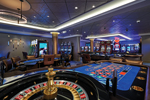 Casino
Numerous slot and video poker machines available
Gaming Tables: Blackjack, Craps, Roulette, Let it Ride®, Three Card Poker, Texas Hold 'Em, Ultimate Texas Hold 'Em, Mini Baccarat, Pai Gow Poker, Spanish 21
Tournaments: Blackjack, Slot and Texas Hold 'Em
Free gaming lessons offered for table games and slots
Launch Party
Currencies Accepted: Credit Cards, Cash, and Traveler's Checks in U.S. currency
Please Note: Game and machine variety varies from ship to ship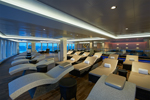 Mandara Spa
Over 50 treatments from hot stone massages to oxygen facials, acupuncture and age-defying treatments
Thermal Suite features steam room, dry sauna, Vitality pool, hot tubs, waterfalls and heated tile loungers
Salt Room
The Snow Room
Hair Salon and Barber Shop
Additional charge for spa and salon services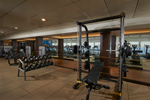 Fitness
Fitness Center
Fitness Center: Features state-of-the-art equipment including weight machines, free weights, stationary bikes, stair steppers, and treadmills
Exercise Classes: various classes including Zumba, TRX training, cardio on the most advanced equipment or aerobics, spinning and kickboxing classes (additional fee)
Outdoor Jogging Track
Personal Training (additional fee)
Classes may vary depending on ship and itinerary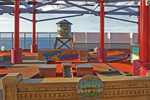 Sports Complex
Sports Complex - 3 stories of action-packed activities including a multi-level ropes-at-sea course, and The Plank.
Ropes course on three levels, with 99 elements including 5 zip tracks
The Plank - balance beam extending out over either side of the ship
Basketball, volleyball, dodgeball, soccer, bocce ball
Teenage Mutant Ninja Turtles Rooftop 9 Mini-Golf
Pools
2 pools including Waves Pool and whirlpools
Aqua Park complete with multi-story slides: Aqua Racer tandem waterslide, Family Slide, and the thrilling Free Fall
Tradewinds Tax-and-Duty-Free Shops
Duty-free goods such as fine liquors, jewelry, apparel, logo, sundries, souvenirs and more
Art Gallery
Photo Gallery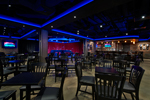 Shows
Escape Theater
After Midnight smash-hit musical
Million Dollar Quartet - award-winning musical
For the Record: Dear John Hughes - at The Supper Club, a 360-degree post-modern cabaret that brings movies to life
Headliners Comedy Club
Parties and Theme Nights
Captain's Welcome Party
Cruise specific theme nights or parties are based on destination of the ship or itinerary
Music & Dance
Live music
Karaoke
Dance Classes
Contests & Tournaments
Contests and tournaments vary depending on ship and itinerary
Health & Wellness
Exercise Classes
Golf Lessons
Gaming Lessons
Dance Classes
Family Gunk Challenges
Family Pictionary
Family Charades
Family Pizza Making
Family Lego Creations
Family Friendly Face-Off Game Show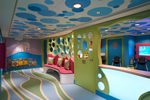 Guppies Nursery (Ages 6 mos. - 2)
This first-ever Norwegian nursery features an Active Room with sensory-based activities, games and toys based on a daily theme, as well as a Quiet Room for babies to rest and sleep.
Guppies (Ages 6 mo. - 2 yrs.) *At least one parent must attend with the child.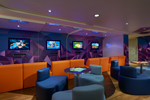 Splash Academy (Ages 3-12)
Kids can enjoy creative play, sports and more, from theme-night activities to cool parties in this complimentary youth program.
Turtles (Ages 3 -5) - Activities may include Arts & crafts, painting, Circus School (Tiger Act, feather balancing) Developmental activities, Sensory and messy play, Storytelling, Treasure hunts and more.
Seals (Ages 6 -9) - Activities may include Circus School (scarf juggling, plate spinning, devil sticks, spinning rope), Games, Painting, Sports and family activities, Team-building challenges, Treasure hunts, Video games, and more.
Dolphins (Ages 10 -12) - Activities may include Arts & crafts, Circus School (stilts, ball jugging, Chinese yo-yo, plate spinning), Scavenger hunts, Sports, Team-building challenges, Video games and challenges, and more.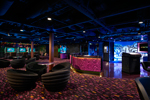 Entourage (Age 13-14 and 15-17)
Activities may include Arts and music, Circus School, Movies, Sports, Team-building challenges, Themed events and pool parties, Video games and challenges, and more.
Group-sitting Options for Kids (Ages 3-12) - Fee Based
Sometimes you just want some adult or grown-up time together. For kids 3-12, Port Play (when ship is in port) and Late Night Fun Zone (nightly) are located at the Kids Center, supervised by our youth staff and designed so that you can have some fun. And your kids, too!
Port Play: If you want some alone time in port you can drop off your kids at Port Play for free. (Nominal fee applies during lunch and dinner hours.)
Late Night Fun Zone: Planning a romantic dinner for two? You can leave your kids at Late Night Fun Zone, open every night. (Nominal fee applies.)
Select Your Sailing Date
September 30, 2018

through

Bonus Offers Available:

Complimentary roundtrip ferry to St. George!
sailing departing on
Prices listed are per person, cruise only, based on double occupancy.