Caribbean Princess
Entertainment

Bars, Clubs & Lounges

Casino & Gambling

Spa

Sports & Fitness

Shops

Leisure

Enrichment

Kids & Families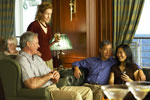 Lounges & Bars
Scenic Lounge
Outrigger Bar
Tradewinds Bar
Morgan's Bar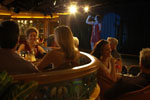 Music & Dancing
Nightclub
Skywalker's Nightclub
Club Fusion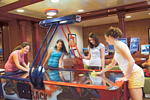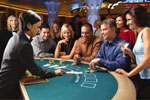 Grand Casino
Slot machines, craps, blackjack, roulette, poker, card room and more
Card and gaming lessons, tournaments
Payment: Onboard account or cash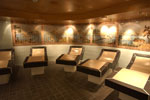 Lotus Spa
A wide variety of body treatments from traditional to exotic
Generation YSPA: Spa treatments for guest ages 13 to 17
Beauty Salon
Additional charge for spa and salon services
Fitness
Fitness Center: Features state-of-the-art equipment including weight machines, free weights, stationary bikes, stair steppers, and treadmills
The Lotus Fitness Center offers a wide range of classes, including popular options like TRX Suspension Training, cycling, Pilates, yoga, stretch, abs and Body Sculpt Boot Camp, and Zumba.
Personal Trainers (Additional fee)
Sports
Center Court
Outdoor jogging track
Shuffleboard
Putting green and golf simulator
Pools
Calypso Pool and whirlpools
Neptune's Reef & Pool, and whirlpools
Terrace Pool
Lotus Spa Pool and whirlpools
Pirate's View Splash Pool and Hot Tub
Paddling Pool on Deck 16 in Outdoor Play Area
The Sanctuary
This adults-only outdoor spa-inspired area offers a relaxing alternative to the many activities aboard the ship. Those seeking solitude can enjoy signature beverages, light meals, massages, attentive service and relaxing personal entertainment (additional fee).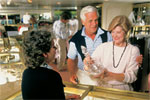 The Shops of Princess
Duty free shopping with a wide array of the finest brands of perfumes, liquors, clothing, and jewelry
Photo Gallery
Princess Fine Arts Gallery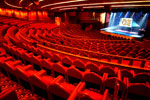 Shows
Princess Theater
Broadway and Las Vegas-style shows
Movies Under the Stars
Street performers in The Piazza
Comedians, Illusionists, live music, and more
Parties and Theme Nights
Festivals of the World (select sailings)
Parties and theme nights vary depending on ship and itinerary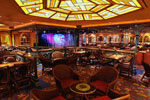 Music & Dance
Live Music
Karaoke
Dance Classes

Contests & Tournaments
Putting Green Contest
Bingo
Wii tournaments
Contests and tournaments may vary depending on ship and itinerary.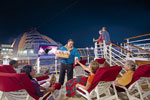 Other Features
Princess "Chocolate Journeys" program
Internet Cafe & Library
World-class art collections, galleries and auctions
Wedding Chapel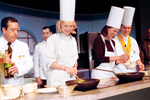 Discovery at SEA
Choose from up to 40 classes on every voyage including everything from card making and stargazing to Encounters with Discovery at SEA speaker series.
Discovery at Sea Programs
Festivals of the World (select sailings)
Courses vary depending on ship and itinerary
Additional fees may apply for some courses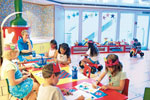 Camp Discovery
Together with Discovery Communications, Camp Discovery features engaging new experiences and wonder-filled centers specially designed for kids and teens, including science discoveries with hands-on challenges and destination-themed programs focusing on the Caribbean, Alaska and Europe. Camp Discovery categories for kids 3-12 include main core themes Play, Discover, Huddle and Create.
Play - indoor and outdoor gaming, sports and physical activities.
Discover - places, animals and hands-on experiments.
Huddle - fun interactions with peers.
Create - arts, crafts, science explorations.
Activities vary by ship and are subject to change.
To participate in the Youth Program, children must be at least three years old and toilet trained. Children under three and/or not toilet trained may participate if accompanied by a parent or guardian.
Just for Kids ages 3-7 - The Treehouse
Kids ages 3 to 7 can dance, enjoy pajama movie nights, create art projects like Animal Planet puppets and masks or compete in a Lego boat-building contest in this bright, whimsical forest and animal-themed center.
Just for Kids ages 8-12 - The Lodge
Filled with sports activities and fun places for older kids to explore, lounge and hang out, this cozy center is inspired by the great outdoors . Activities include games, dancing, kid-sized Olympic competitions, California Science Center programs like rocket building, stargazing, learning how to build a model roller coaster and more.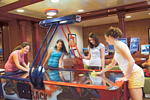 Just for Teens ages 13-17 - The Beach House
Perfect for hanging out and socializing with late-night movie viewing, hip hop dance classes, video game tournaments and sports competitions like dodgeball and basketball, The Beach House is the place for teens to enjoy late-night movie viewing, hip hop dance classes, video game tournaments and sports competitions like dodgeball and basketball, or dazzle on the red carpet with the Rock the Boat teens-only party, complete with awards and mocktails.
Once registered for the Program, Teens are welcome to come and go as they please. No sign in or out necessary.
Just for Young Adults ages 18-20
Guests ages 18-20 learn the secret handshake and are granted a special code word to unlock an exclusive list of Club 1820 events made just for them. No parents, no little siblings, no official hosts.
Babysitting
Group babysitting is available on sea days and port days for ages 3-12 from 10pm to 1am for $5.00 USD per child (prices subject to change); Teen Program is complimentary.
On port days a supervised, complimentary lunch service is available with parental consent.
Youth Staff do not provide lunch service on sea days or dinner service on sea days or port days, but special kids dining events are scheduled throughout the voyage. Please check onboard for schedule.
Caribbean Princess Cruises