Norwegian Epic
Entertainment

Bars, Clubs & Lounges

Casino & Gambling

Spa

Sports & Fitness

Shops

Leisure

Enrichment

Family Friendly Features

Just for Kids

Group Sitting for Kids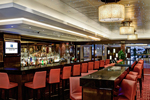 Lounges & Bars
Intimate Lounge
SVEDKA and Inniskillin Ice Bar
Sake Bar
Pool Bar
Waves Pool Bar
Posh Beach Club - (Exclusive pool bar for guests of The Haven)
Whiskey Bar
Maltings Beer & Whiskey Bar
Irish Pub
O'Sheehan's Neighborhood Bar & Grill
Exclusive Lounge
The Haven Lounge (Private Access for Guests of The Haven only)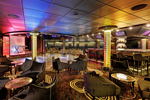 Music & Dancing
Dance Club
Bliss Ultra Lounge
Spice H2O
Live Music Bar
The Cavern Club
Fat Cats Jazz & Blues Club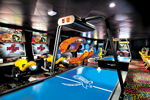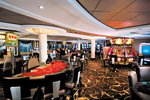 Epic Casino
340 Slot Machines available
Video Poker Machines available
Gaming Tables: Blackjack, Craps, Roulette Let it Ride®, Three Card Poker, Texas Hold 'Em, Ultimate Texas Hold 'Em, Mini Baccarat, Pai Gow Poker and Spanish 21
Tournaments: Blackjack, Slot and Texas Hold 'Em
Please Note: Tournament game variety varies from ship to ship
Free gaming lessons offered for table games and slots
Launch Party
Currencies Accepted: Credit Cards, Cash, and Traveler's Checks in U.S. currency
Please Note: Game and machine variety varies from ship to ship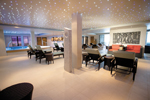 Mandara Spa
Over 50 treatments from hot stone massages to oxygen facials, acupuncture and age-defying treatments
Thermal Suites
Hair Salon and Barber Shop
Additional charge for spa and salon services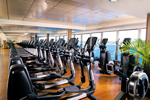 Fitness
Pulse Fitness Center
Fitness Center: Features state-of-the-art equipment including weight machines, free weights, stationary bikes, stair steppers, and treadmills
Exercise Classes: various classes including Zumba, TRX training, cardio on the most advanced equipment or aerobics, spinning and kickboxing classes (additional fee)
Outdoor Jogging Track
Squash Court (additional fee)
Personal Training (additional fee)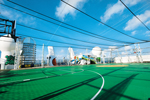 Sports Complex
Challenge yourself on the multi-level ropes course with over 40 challenging elements.
Rapelling and Rock-Climbing Wall
Spider Web - 24-foot enclosed climbing cage complete with a spiral slide
Bungee Trampoline
Multi-use Sports Deck also includes full-size basketball court, volleyball, soccer, and dodgeball.
Batting Cage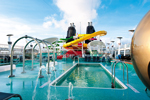 Pools
2 pools and 5 whirlpools
Kids Aqua Park includes kid-size pool and slide, splash area, fountains and sprays
3 multi-story waterslides including the thrilling Epic Plunge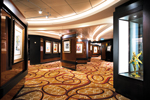 Tradewinds Tax-and-Duty-Free
Shops including Tides Boutique, perfume shop, jewelry and gift shop, logo and souvenirs, and more
Click Photo Gallery
Art Gallery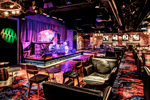 Shows
Non-stop entertainment including theatre, Broadway-style shows, dance shows, vocalists, comedians, and magicians.
Howl at the Moon - two musicians, two pianos
Cirque Dreams & Dinner (additional fee)
The Second City - comedy theater
Blues Band
Celebrity DJ - Bliss/Spice H20
Coming April 19, 2015 - Ballroom Blitz
The Maestraza Spanish Ballet - Europe sailings only
Los Locos Ole! - Europe sailings only
The Cavern Club - coming in October 2015
Parties and Theme Nights
Sailaway Party
Captain's Welcome Party
White Hot Party
Special events and parties vary depending on ship and itinerary
Music & Dance
Live music
Karaoke
Dance Classes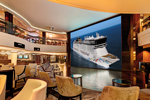 Contests & Tournaments
Wide variety of contests, games and tournaments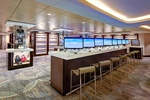 Other Features
Library
Card Room
Internet Cafe
Health & Wellness
Exercise Classes
Golf Lessons
Gaming Lessons
Dance Class
Family Gunk Challenges
Family Pictionary
Family Charades
Family Pizza Making
Family Lego Creations
Family Friendly Face-Off Game Show
For Norwegian's Youngest Guests (Ages 6 mos. - 2)
Norwegian's youngest guests can enjoy up to 2 hours a day of sensory play, painting and other activities with their parents.
Guppies (Ages 6 mo. - 2 yrs.) *At least one parent must attend with the child.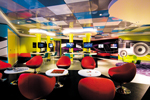 Splash Academy (Ages 3-12)
Kids can enjoy creative play, sports and more, from theme-night activities to cool parties in this complimentary youth program.
Turtles (Ages 3 -5) - Activities may include Arts & crafts, painting, Circus School (Tiger Act, feather balancing) Developmental activities, Sensory and messy play, Storytelling, Treasure hunts and more.
Seals (Ages 6 -9) - Activities may include Circus School (scarf juggling, plate spinning, devil sticks, spinning rope), Games, Painting, Sports and family activities, Team-building challenges, Treasure hunts, Video games, and more.
Dolphins (Ages 10 -12) - Activities may include Arts & crafts, Circus School (stilts, ball jugging, Chinese yo-yo, plate spinning), Scavenger hunts, Sports, Team-building challenges, Video games and challenges, and more.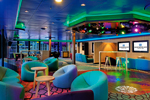 Entourage (Age 13-14 and 15-17)
Activities may include Arts and music, Circus School, Movies, Sports, Team-building challenges, Themed events and pool parties, Video games and challenges, and more.
Group-sitting Options for Kids (Ages 3-12) - Fee Based
Sometimes you just want some adult or grown-up time together. For kids 3-12, Port Play (when ship is in port) and Late Night Fun Zone (nightly) are located at the Kids Center, supervised by our youth staff and designed so that you can have some fun. And your kids, too!
Port Play: If you want some alone time in port you can drop off your kids at Port Play for free. (Nominal fee applies during lunch and dinner hours.)
Late Night Fun Zone: Planning a romantic dinner for two? You can leave your kids at Late Night Fun Zone, open every night. (Nominal fee applies.)
Norwegian Epic Cruises